SOARING VIEWS, ELEVATED LIVING
High atop Miscela, you'll find our coveted penthouses. Perched on floors 22 – 24, our premier one-, two- and three-bedroom homes offer show-stopping views, elevated color palettes and bespoke finishes. Look through our gallery to see more.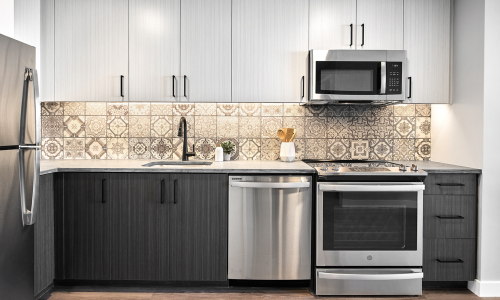 ELEGANT UPGRADES
Our exquisite penthouse kitchens feature two finish palettes, stone countertops, custom tile backsplash, GE Stainless Steel Appliances, Moen plumbing fixtures and beautiful black hardware. Refined bathrooms have been upgraded with marble tile flooring and marble tub/shower walls. Sleek roller shades enhance all windows and stylish wallcoverings elevate our penthouse level elevator lobby & corridors.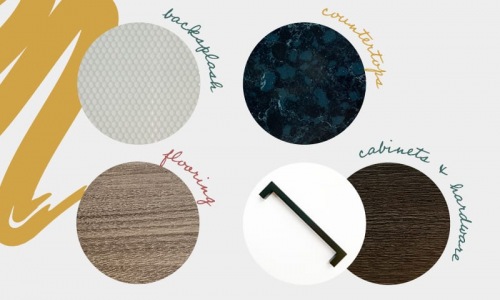 GEOMETRIC FINISHES
• Dark oak cabinet millwork
• Elegant geometric tile backsplash
• Quartz countertops
• Wood-look flooring
• Modern cabinet hardware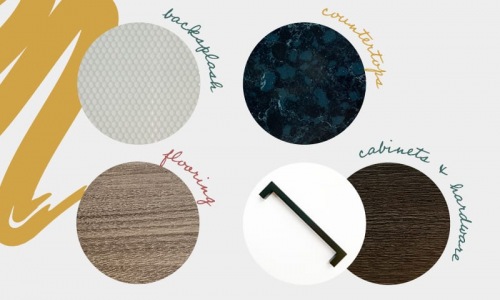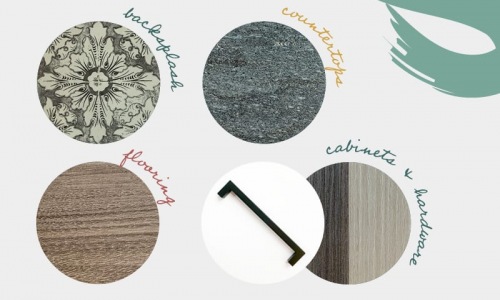 BOHO-CHIC FINISHES
• Light upper and dark lower cabinet millwork
• Boho-chic tile backsplash
• Stone countertops
• Wood-look flooring
• Modern cabinet hardware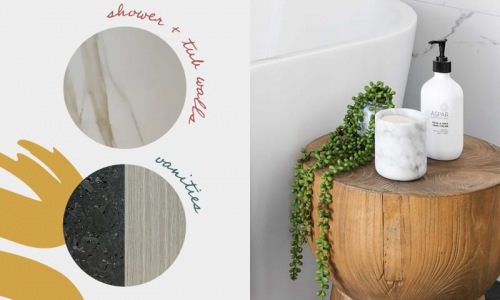 BATHROOM FINISHES
• Marble flooring and shower & tub walls
• Light wood cabinets
• Quartz vanity tops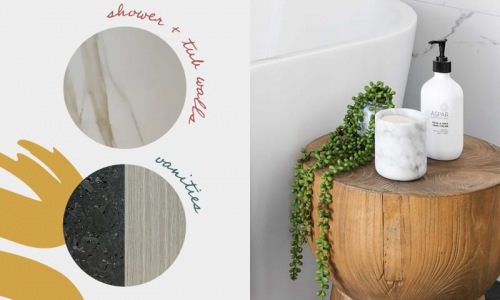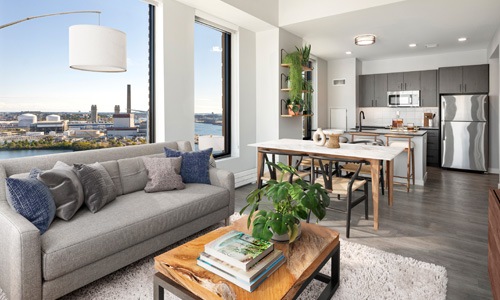 24TH FLOOR EXTRAS
Our very top floor offers even more luxury with high ceilings—up to 12'—in living areas and bedrooms, and larger average unit sizes.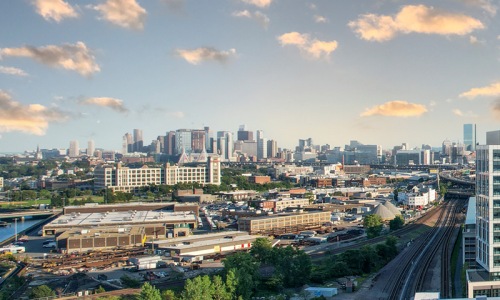 PENTHOUSE VIEWS
Featuring sunrise views over the meandering Mystic River, our penthouse residences offer a truly unique vantage point. From the very top of Miscela you'll overlook the river, the iconic Boston skyline and the majestic Zakim Bridge. Trust us, waking up to this view never gets old.